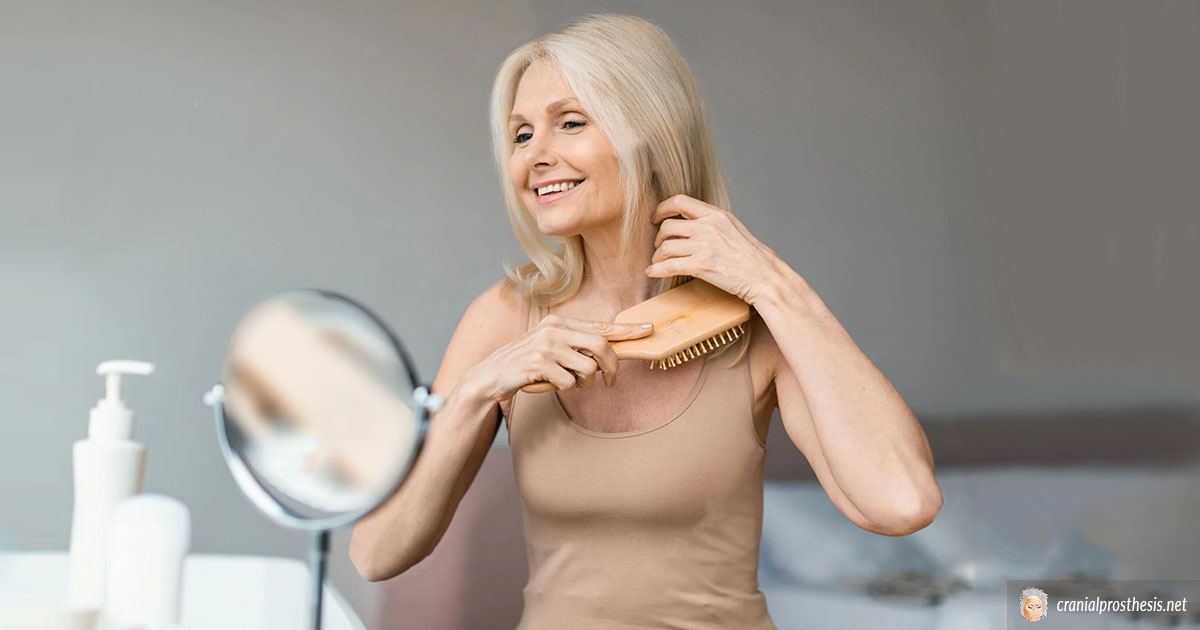 Although there are conditions to meet, you can get your medical wig covered by insurance. In this article, we will talk about the conditions and give you the steps needed to get coverage for your medical wig.
You will gain more knowledge about cranial prostheses, wig insurance reimbursement, and what to do if your insurance rejects your reimbursement.
What Is A Cranial Prosthesis?
A cranial prosthesis is a medical wig made specifically for each individual who is experiencing permanent or temporary hair loss due to medical conditions or medical treatments. People who lose their hair because of alopecia, trichotillomania, cancer, and other similar medical conditions, need to wear a medical wig aka cranial prosthesis. In essence, the purpose of a medical wig is not just for aesthetics, but also to protect their sensitive scalp (especially after chemotherapy) and to help patients look as they did before treatment.
How Are Medical Wigs Different?
Medical wigs are different because a special type of base material is used to construct the wigs which provide a comfort fit. Also, to avoid friction on the scalp, there is no base roughness or knots. Additionally, 100% human hair is used for all hair prostheses, and the wig is custom designed and made for the patient.
For more information on fashion wigs versus medical wigs, click here.
What Is Medical Wig Covered By Insurance?
If your wig is prescribed due to medical hair loss, then your insurance company is likely offering you cranial hair prosthesis coverage. This means the total or partial cost of your medical wig is covered by your insurance. However, see below the steps you need to take to claim that.
Here's What To Do To Get Your Medical Wig Covered By Insurance
Buying a quality medical wig costs thousands of dollars compared to a store-bought fashion wig. For this reason, obtaining insurance coverage, despite the hoops you'll go through, is worth it. Given these points, before purchasing your wig, you will need to complete the following steps. Since the process may take a while, you should start as soon as possible.
Step 1:
The first thing you need to do is contact your insurance representative and inquire if they offer cranial prosthesis coverage. If they offer such coverage, find out the following:
How much of the cost are they willing to cover?
Their payment process (pay to you or the wig maker).
The type of hair loss they cover.
What documentation is needed to file your claim.
The terminology your doctor must use on your prescription.
When speaking with your insurance representative, try not to use the word 'wig'. Instead, be more specific and use the correct terms such as 'cranial prosthesis' or 'cranial hair prosthesis'.
Step 2:
It's important to get the right prescription from your doctor. So, ask him/her to…
Use the terms your insurance requested.
Specifically state your condition. For example, don't just use the word 'cancer', you must add the type of cancer.
Include the code or medical procedure number (Healthcare Common Procedure Coding System, HCPCS), such as S8095 or A9282.
Explain why your cranial prosthesis is a piece of durable medical equipment (DME).
Write a letter and talk about why you need a cranial prosthesis. For instance, the reason for your hair loss and how it can improve your condition physically, mentally, and emotionally. Even though this might be optional, it can have a big impact.
Never use the word 'wig' as it will associate your case with cosmetics. So, always use the right terminology.
Don't forget to sign the form(s) to submit your claim.
Step 3:
Prepare all documents required to submit. They include:
The insurance claim form(s). Also, you can get the NPI code required by the form from the NPI Records Search.
Include your prescription.
Your doctor's letter.
The cranial prosthesis' invoice. This is in the event that you have to pay upfront for your wig and then be reimbursed by the insurance company. In addition to the wig shop's Tax ID Number, it needs to also include the medical procedure code. And don't forget that using the word 'wig' should not be used to describe the product you purchased.
Make a copy of each document for yourself before sending it. You may also want to consider including a photo of yourself as additional evidence of your medical condition. Some claimants also have a family member or friend write a letter for you to support your claim. All of these evidentiary items can be included when you send your claim.
Step 4:
In the event your claim is denied, you can file an appeal and it will be reviewed by a medical board. But ask your insurance provider the reasons for the rejection. If it's as simple as problems with the documentation, you should amend it right away. In addition to getting your medical wig covered by insurance, there are other ways to cover the cost of your cranial prosthesis. For instance, with a healthcare HSA or FSA and CareCredit.
How We Can Help
At our A Diva's Hidden Hair Manufacturer center, all cranial hair prostheses are hand made. Due to the delicacy of these wigs, we do not use machines for their construction. Not only that, but the best 100% human hair is used and they are meticulously designed for the utmost comfort of patients. Moreover, each custom prosthesis is uniquely molded and crafted for the individual patient's skin, condition, needs, and lifestyle. You can contact our cranial prosthesis specialist at our Solana Beach location by calling (619) 820-0290 for a free consultation or use the button below to request online.