Louticia's turbans for cancer patients are ideal for concealing hair loss due to chemotherapy or other hair loss conditions. Not only does it provide full coverage, it also conforms to the head. Our turbans for cancer patients are designed with bamboo stretch fabric inside, so it's soft on the scalp. Plus, there are no irritating seams.
Our fashion turbans are the most talked about hair accessory of the year. Worn with modern outfits, the result is trendy and chic.
Now, let's have a look at some of our favorite turban styles.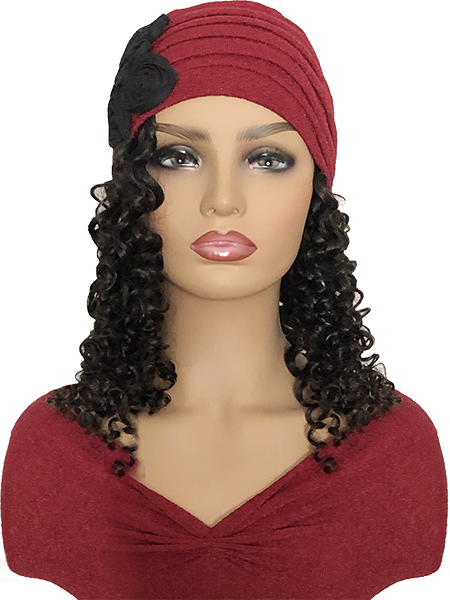 Turbans for Cancer Patients with Hair Loose
No matter what style of hair, when you leave it out of the turban, you're going to look fabulous. However, wavy hair tends to look great. But if you don't have naturally wavy hair, here's a quick tip.
Shampoo your hair, then work a little mousse into it. Let your hair dry naturally. But don't over do it with the mousse as you want your hair to have movement. Now, add a few drops of oil for the finishing touch. The oil not only conditions your ends, but also keeps it from drying out due to the mousse. Additionally, the oil also adds a little extra shine.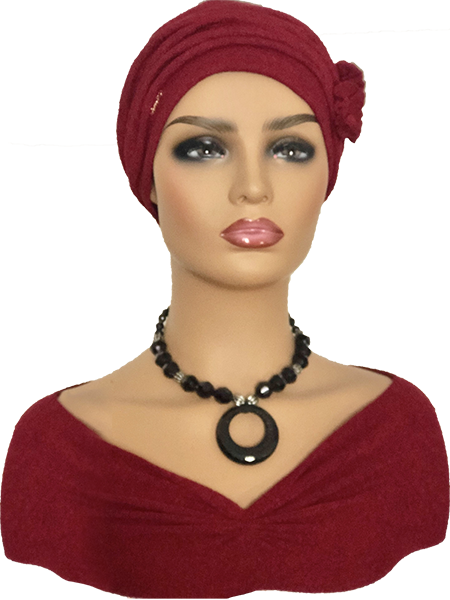 Turbans for Cancer Patients With All Your Hair In
After a day spent undergoing treatment, you certainly don't want to have to fuss with your hair. The good news is that you don't have to and you can still positively fabulous! You can hide all your hair under the turban. Also, this is a great trick for bad hair days.
Need to quickly get out the door and don't have time to fiddle with your hair? No worries, just wear one of Louticia's stylish turbans for cancer patients and you'll still look stunning. And to avoid any lumps under the turban, you can tie your hair in a spiral bun or wrap it around your head. Of course, the best technique would depend on the length and thickness of your hair. So, choose the option that's most suitable for your situation. And to really kick things up a notch, wear bright lipstick. Turning heads is a guaranteed response!

Ok, so where would you wear these gorgeous turbans for cancer patients? Glad you asked. They can be worn just about everywhere! They're great for church, special occasions, video conferencing, or just running errands. Our turbans are available in children sizes as well as adults. Available colors include black, coco, sage, purple, berry and rust. But of course, Louticia can make whatever color you desire. And with the holidays closing in, you can get a different color for each week of the season! To place your order, call Louticia Grier at (619) 820-0290.
You may also enjoy reading: Hair Towel Wrap for Prosthesis Wigs