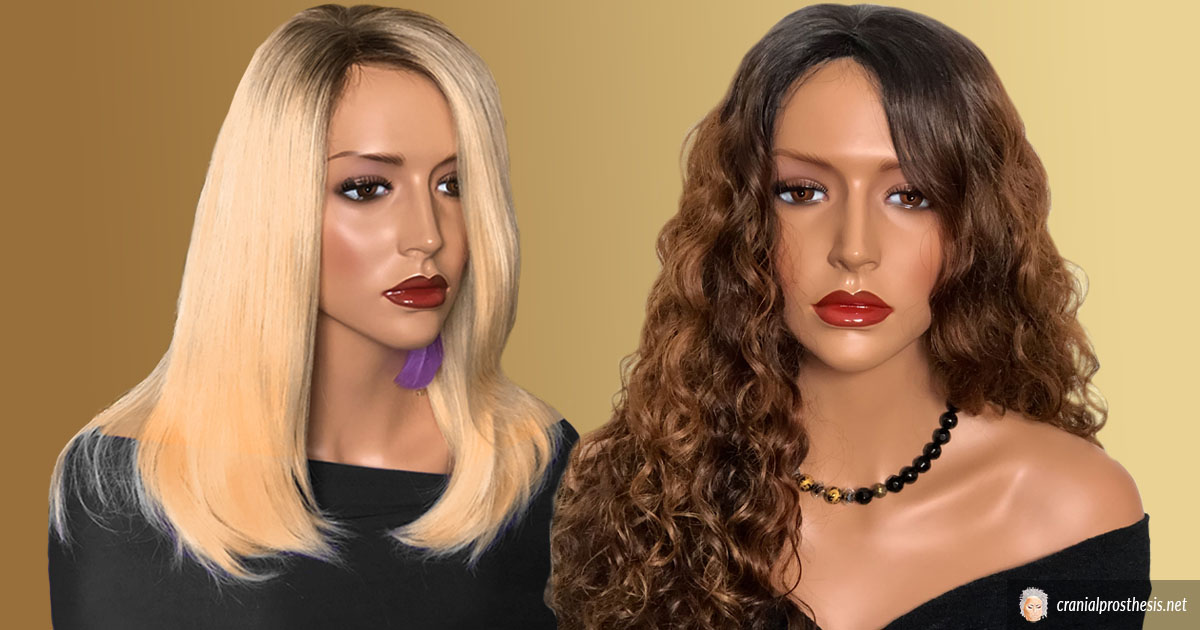 Knowing how to care for your prosthesis wig is important for many reasons. Not only to protect the integrity of the wig, but also to keep the hair looking great. And as with your own hair, your hairpiece need regular maintenance to keep it looking its best.
Therefore, adhering to proper cleaning methods and using the right tools is of utmost importance when caring for your prosthesis wig. Hairpieces and wigs, whether made of human hair or synthetic, require specifically tailored combs. They also required the appropriately formulated hair care products. These types of products keep your wig looking healthy and natural.
However, it's not necessary to wash your wig daily. Instead, there are appropriate care methods before and after each wear.
How To Care For Your Custom Prosthesis Wig
Since synthetic hair is made from a variety of nylon materials and fine plastic, it distinguishable from real hair. However, the synthetic fibers allow the hair system to keep the wig's original style. This is true even after you shake it.
There are some general rules to follow when care for a synthetic hair. In general, almost all types of synthetic wigs cannot withstand any direct heat. They also cannot be dyed a different color. Additionally, they should mainly be air dried on a wig stand or similar wig storage.
To increase the longevity of human hair wigs, they thrive on conditioners. Similarly to your own hair, conditioners coat the hair and preserve the style. Unlike synthetic wigs, human hair wigs can withstand heat styling tools. Although, it's not recommended using them often as it is with your own hair.
Preparing To Wash Your Human Wig
Use a wide-tooth comb or your fingers to gently remove tangles. And it's best to start at the ends and slowly work toward the roots to avoid worsening the tangles.
Washing
Don't submerge or soak your wig. Rinse the by holding the hair under cool water. Make sure to allow the water to run from roots to ends.
Place a small amount of shampoo in your hands. Then, evenly and gently stroke it through the hair in a downward motion from the roots to the ends.
Next, rinse the wig by holding it under cool water until the water runs clear. Gently squeeze to press out excess water. Never wring or twist the hair.
Conditioning
For conditioning, follow step #1 above, but don't apply the conditioner to the base as it may cause shedding.
Leave conditioner on for 1-2 minutes or follow the conditioner manufacturer's instructions. Do not exceed 3-5 minutes.
Follow step #3 above to complete the cleaning and conditioning of your wig.
How Often Should I Wash My Human Hair Wig?
Some people have their custom made wigs secured using wig tape, glue or other application methods. If this is not the case for you, we recommend washing and conditioning every 6-8 weeks. Of course, this depends on how often you wear your wig. So, use your discretion.
It's good to apply a deep conditioner every other wash since human hair needs added moisture. If you've had the hair dyed, use products made for color treated human hair wigs.
If you're need more details on how to care for your prosthesis wig or to buy one, call (619) 820-0290.