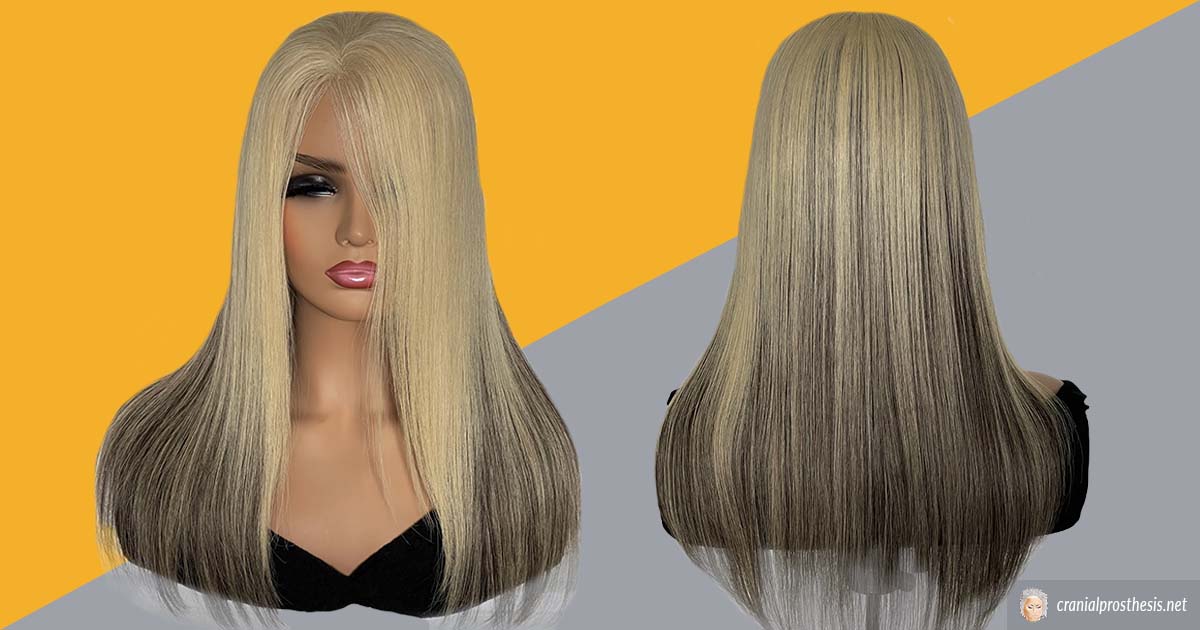 At our A Diva's Hidden Hair Manufacturing center, every year, we make thousands of custom cranial prosthetic wigs for clients and patients. Everyone's head is shaped differently. We take head size and other factors into consideration when designing our custom cranial prosthesis wigs.
Some women have a size 19 or 19 1/2 size head which is pretty small. And other women's heads may measure 20 or 21 which is also small. If you've lost most of your hair, you probably realize now that the top and crown of your head looks flat. In fact, most people never give it a second thought because hair is covering the scalp. But subconsciously, that's why back in the day we used to tease our hair on top to give it height. Remember that?
To ensure your prosthesis wig fit your head properly, we use a propriety soft insert in the top of your wig. Not only does it provide more support in height, but also allows your wig to cup your head properly for a perfect fit.
How Should A Prosthesis Wig Fit On Your Head?
In general, there are a few ways to determine how your prosthesis wig should fit on your head. There shouldn't be any sliding from the wig when you turn your head. Instead, it should fit snug, but not tightly. Given that patients' scalps are already sensitive, your wig should not too tightly.
Obviously, you'll feel that you're wearing something on your head, but it shouldn't cause you pain nor irritate your scalp. For this reason, we provide a head measuring guide to clients to measure their head before or during their video consultation. Knowing the correct measurements is crucial to us making a perfect medical wig for you.
Knowing If Your Wig Is Too Small or Too Big
There will be a noticeable difference in wearing a prosthesis wig versus a regular wig. So, here are some things to look out for.
If Your Wig Is Too Small
How does your wig fit on your temples? If your hairline is being pulled or there's excessive pressure, then the cap size many be too small. But if your cap has a lace front and the lace rolls under, then it's too small. On the other hand, mono cap wigs that's too small may stick up at a point on the crown if it's too small.
You won't have these problems with our custom prosthesis wigs. Our medical wigs are made with a more durable material than lace and they are handmade. Additionally, Louticia Grier is a stickler about making sure clients are completely satisfied with their custom pieces. Besides, wearing a medical wig is part of a patient's healing process, so it needs to be beautiful and fit perfectly.
Too Big
The wig will lift up when you move your head or the cap will slide around. Unless you're doing wild head dances, a perfect fitting wig should be able to stay on through most movements. Wigs containing a lace front shows your natural hair through the ear tab hairline. Or, the lace is buckling or wrinkling at the front. Those are signs your cap size may be incorrect. However, some of these issues can be resolved by using the wig adjustment straps. Ultimately, you are the best judgement of whether the wig is right for you. But again, these are not issues you will experience with our custom medical wigs.
We've all been at the start of our journey with alternative hair looks. And even though it can seem like a daunting task, we promise it will be fun and worthwhile. Particularly with Louticia at the helm, you're in good hands. To ensure you get a prosthesis wig that fit your head correctly, book your free consultation today!
You may also enjoy reading: How To Protect Your Scalp Before Hair Color Treatment