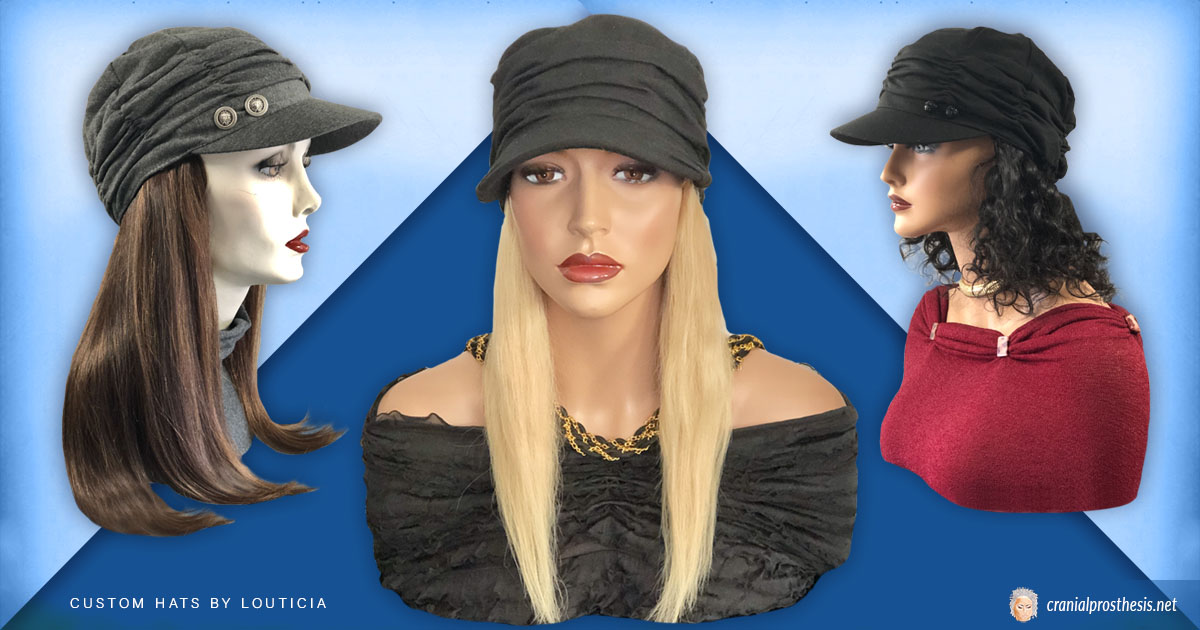 CranialProsthesis.net offers a selection of chemo hats with hair for women. Oftentimes, women are not satisfied with the hat or scarf provided to them through the hospital. But they are unaware that there are numerous choices available.
We want you to know that you can look your absolute best with our custom chemo hats with hair for women. Our hat styles are fashionable with gorgeous human hair attached. These functional chemo hats are available in an array of colors. And the best part is you can have any hair color, texture, or length.
We make it easy to shop for quality chemo hats online. They not only provide secure coverage for cancer patients but for women experiencing hair loss as well. Our chemo hats with hair add a touch of sophistication and femininity to any wardrobe.
How To Choose Chemo Hats With Hair
Chemo hats with hair are an alternative solution to wigs when experiencing hair loss during cancer treatments.
Easy and comfortable to wear, our hats with hair offers you many different options to change your look frequently. And it's up to you whether you want to wear your hat with hair at home or only when you go out.
https://cranialprosthesis.net/product/chemo-hats-with-hair-for-cancer-patients

https://cranialprosthesis.net/product/hat-with-hair-attached-for-chemo-patients

The best type of material for sensitive scalp is lightweight material such as cotton or bamboo nylon. Hats made with this type of material lets your scalp breathe. We recommend avoiding synthetic fabrics as they can irritate your skin. Also, some fabrics can be slippery, like silk, which can be uncomfortable when worn.
Hair loss can be a stressful time. You will be adjusting to the changes and deciding which steps to take. Some embrace their hair loss while others prefer to cover it up. If you're choosing to cover it up, there's no right or wrong way to do it. However, if you find yourself feeling overwhelmed with choices, it's helpful to know your options.
Hats can be a stylish way to express your style while keeping your hair loss covered and ensuring your head stays warm. Our chemo hats with hair for women are stylish and easy to incorporate into your favorite outfits.
No matter how you choose to approach your hair loss, we want you to know you have fashionable options. Plus, we can design any hat with hair you desire, get in touch with us today!
You may also enjoy reading: Tips For Wearing A Wig As A Cancer Patient