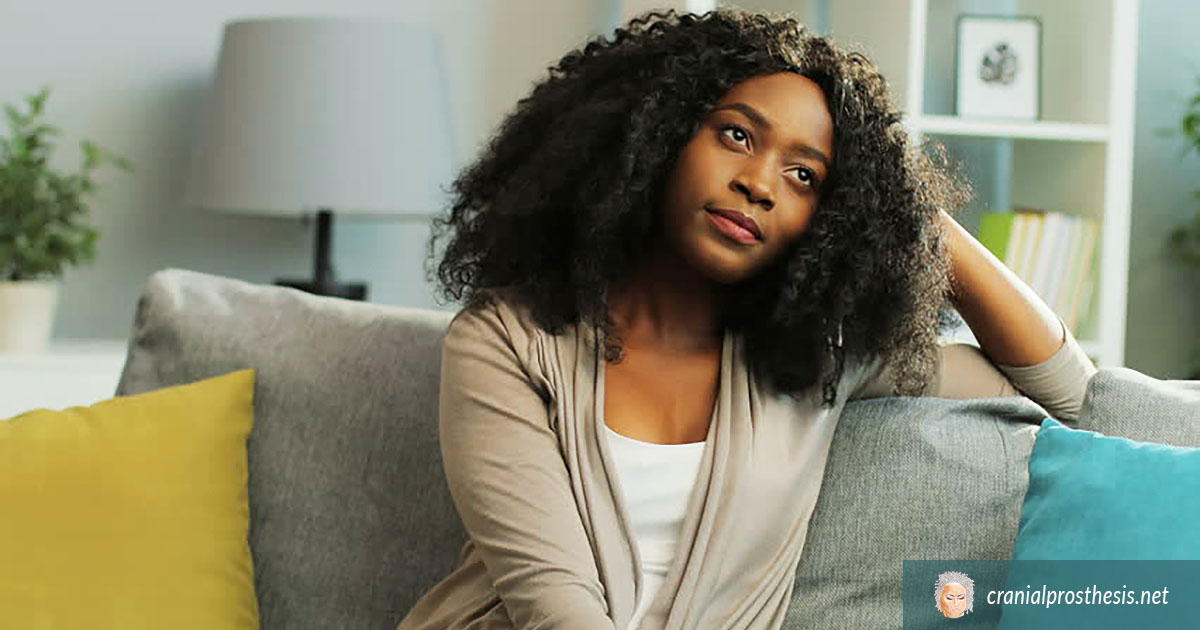 Women's hair loss can be overwhelming and distressing to the suffer's well being. When we think about hair loss, we often visualize a bald man. However, American women make up forty percent of hair loss sufferers, 21 million currently suffering from a hair loss condition such as alopecia. Unfortunately, a deep cultural bias has forced women to suffer in silence. Men going through the same hair loss process are judged less harshly.
Women's hair loss can be an impediment to confidence and self-esteem. There are many factors that can contribute to women's hair loss, including genetics, illness, inadequate nutrition, improper scalp care and medications. Myths surrounding hair loss in women are also common. At Cranial Prosthesis, we assess and treat female hair loss at our Solana Beach hair salon.
We look at some of the causes, scalp protection products, and myths.
What Causes Women's Hair Loss?
There are a myriad of reasons why you might suffer hair loss. In some types of hair loss, genetics plays a part. And, just like the condition of your nails and skin, your hair and scalp are subject to your overall state of health. Hormonal changes, congenital conditions, illness, medications and even extreme diets can interfere with the normal cycle of hair growth. Menopause and pregnancy can also contribute to hair loss. Hair loss due to emotional or physical trauma, extreme stress or after a surgery is also possible. Improperly attached hair extensions and tight braiding can result in hair loss.
Scalp Protection Hair Loss Prevention
Healthy hair starts with a healthy scalp. Applying various types of chemicals such as relaxers and hair color treatments to your hair without adding a barrier between the hair and scalp can cause great harm to your scalp. While these products are readily available over-the-counter and you may just want to touch up those edges before a night out with the girls, some things are best left to the trained and skilled professionals. Chemical burns are painful and they can be prevented. It's a new year and you may want a new look, but not the kind of look that makes you want to wear a hat because the chemicals burned your scalp.
Here's a great product; Scalp Base Protection, developed by Louticia Grier specifically to prevent scalp chemical burns and hair loss. As a Hair Loss Specialist, Louticia cares about what goes on your scalp and hair.
Exposing The Myths About Women's Hair Loss
Some of the favored myths include:
All hair loss is permanent – Not true. Both surgical and nonsurgical treatments are available. The earlier the problem is assessed and treated, the better.
Hair loss can be caused by washing your hair. In general, normal care does not result in hair loss and it is normal to naturally lose a certain amount of hair.
Hair loss is only inherited from the maternal line. Either parent's genes can be a factor. Additionally, there is no proven method to foreknow how much hair you might lose or in what pattern.
Men and women experience hair loss in the same way. Men generally get a receding hairline, whereas women experience a widening part or decreased density on the top of the head.
In Conclusion
Our specialists can educate you about women's hair loss, determine if you suffer from this condition or it is self-inflicted, and provide treatments to restore your tresses. To learn more about our services or find out how we can assist you, contact our hair loss center today.